AV Preservation by reto.ch
If it's not awesome, we don't do it.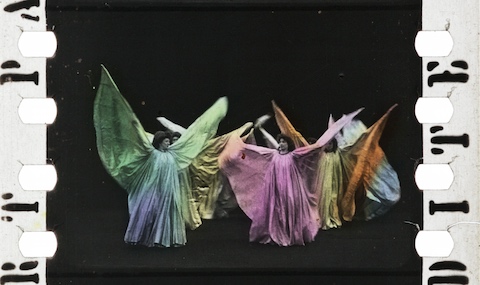 A stencil-coloured print of
Création de la serpentine by Segundo de Chomón
(Pathé Frères, France 1908).
We are a small, highly skilled moving image conservation and restoration facility based in Switzerland. Our team provides worldwide comprehensive services that encompass the whole range of audio-visual preservation and offers you Swiss quality at a competitive price. We are also actively engaged in a number of relevant national and international professional bodies.
Our Services Include
moving image restoration
film digitisation for both preservation and access purposes
audio-visual files and data transformations
consultancy, training and research on audio-visual preservation issues
digital archiving service
News
Patronage of the Arts and the Sciences
AMIA, the Association of Moving Image Archivists
ACP, the Albanian Cinema Project
AEC Film Preservation Workshop, 19–23 June 2017, Salaya, Thailand
SEAPAVAA, the SouthEast Asia-Pacific AudioVisual Archive Association
Implementation of RGB 16-bit handling in FFV1 for both the planar bgrp16 and the packed rgb48 storage patterns
FIAF, the International Federation of Film Archives
IASA, the International Association of Sound and Audiovisual Archives
Publication
Software R&D Engineer
We are seeking to recruit an experienced software research and development engineer to join our small, highly skilled team.
Training
Workshop on 11–12 September 2017 at Nasjonalbiblioteket in Mo i Rana, Norway [en]
«Film Preservation and Restoration Workshop India 2017», 7–14 October 2017 at Prasad Studios in Chennai, India [en]
Archivierung audiovisueller Dateien, Bern, 2 November 2017 [de]
«Préserver le cinéma sur formats réduits» at Cinémathèque des Pays de Savoie et de l'Ain on 6–7 November 2017 in Veyrier-du-Lac, France [fr]
Bash for Archivists: Using AMIA Open Source, AMIA Conference, 29 November 2017 in New Orleans, Louisiana, Divided States of America [en]
«Open Source for Archivists» Workshop on 7–8 April 2018 at the Thai Film Archive in Salaya (near Bangkok), Thailand [en]
Tweets
---
2017–08–12