AV Preservation by reto.ch
If it's not awesome, we don't do it.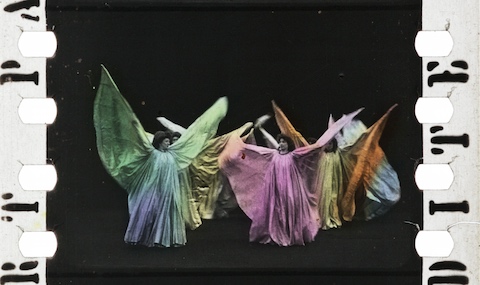 A stencil-coloured print of
Création de la Serpentine by Segundo de Chomón,
Pathé Frères, France 1908
(Courtesy by Österreichisches Filmmuseum, the Austrian Film Museum)
Please note that:
– We are open also during the China virus pandemic.1
– As we currently telework as much as possible, the easiest way to reach us is by email.
We are a small, highly skilled moving image conservation and restoration facility based in Switzerland. Our team provides worldwide comprehensive services that encompass the whole range of audio-visual preservation, offering Swiss quality at a competitive price. We have a particular commitment to the dissemination of audio-visual conservation and restoration techniques, and we support open-source projects which we believe are beneficial for the archival community. We are actively engaged in a number of relevant national and international professional bodies. We are running the Swiss Film and Video Directory.
Our Services Include
film digitisation for both preservation and access purposes
moving image restoration
audio-visual files and data transformation
data migration with file format maintenance
digital archiving service
consultancy, training and research on audio-visual preservation issues
Training
How to keep running Flash after 2020–12–31, TBA [en]
Open-Source Tools and Resources for Audio-Visual Archives, at Elías Querejeta Zine Eskola in Donostia (San Sebastián), Spain, on 11–14 May 2021 [en]
TBA, "Digital Archives. Data Literacy and Presentation Strategies in Audiovisual Archives" at Filmuniversität Babelsberg Konrad Wolf, Germany, on 6–10 September 2021 [en]
Patronage of the Arts and the Sciences
Publications
Tweets
---
Note
We have decided to change the designation from "CoViD-19" to "China virus pandemic", because People's Republic of China is still refusing any independent scientific investigation, lead by the World Health Organisation, on the cross-species barrier jumping. Honestly, which is China's interest in hiding the truth about this disease?
---
2021–01–22