AV Preservation by reto.ch
If it's not awesome, we don't do it.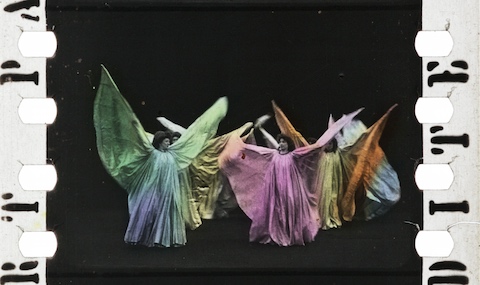 A stencil-coloured print of
Création de la Serpentine by Segundo de Chomón,
Pathé Frères, France 1908
(Courtesy by Österreichisches Filmmuseum, the Austrian Film Museum)
We are a small, highly skilled moving image conservation and restoration facility based in Switzerland. Our team provides worldwide comprehensive services that encompass the whole range of audio-visual preservation, offering Swiss quality at a competitive price. We have a particular commitment to the dissemination of audio-visual conservation and restoration techniques, and we support open-source projects which we believe are beneficial for the archival community. We are actively engaged in a number of relevant national and international professional bodies. We are running the Swiss Film and Video Directory.
Our Services Include
film digitisation for both preservation and access purposes
moving image and sound restoration
files and data transformation, migration and maintenance
digital archiving service
research, training and consultancy on audio-visual preservation issues
Training
De-Mystifying LTO or: LTO for the Masses, together with Linda Tadic and Larry Blake, at the AMIA Conference in Pittsburgh, Pennsylvania, United States of America, on 7–9 December 2022 [en]
Automatisierung von FFmpeg mit Bash, Memoriav Workshop, at Lichtspiel in Bern on 12 January 2023 [de]
Automatisation de FFmpeg avec Bash, Memoriav Workshop, at Lichtspiel in Bern on 13 January 2023 [fr]
Qualitätskontrolle von audiovisuellen Dateien, Memoriav Workshop, at Lichtspiel in Bern on 26 January 2023 [de]
Contrôle qualité des fichiers audiovisuels, Memoriav Workshop, at Lichtspiel in Bern on 27 January 2023 [fr]
The Green Archive: Sustainability in Digitisation and Long-Term Archiving, FIAF Workshop, online, on 30 March 2023 [en]
Open-Source Tools and Resources for Audio-Visual Archives at Elías Querejeta Zine Eskola in Donostia (San Sebastián), on 16–19 May 2023 [en]
FFmpeg-Workshop at Hochschule der Künste Bern, on 23 May 2023 [de]
Medienkunst: Technologie und Erhaltungsstrategien III at the Akademie der bildenden Künste in Vienna, Austria, on 14–15 June 2023 [de]
Using FFmpeg in a Film Archive. Advanced Level, FIAF Workshop, online, on 29 June 2023 [en]
Filmkonservierung und -restaurierung at Hochschule der Künste Bern, in Autumn 2023 [de]
Patronage of the Arts and the Sciences
Publications
---
2022-11-27